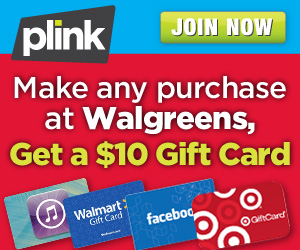 You have 2 Days Left to take advantage of this deal. If you are new and sign up for Plink, you'll Get 1,000 Plink Points to Get a $10 Gift Card of Your Choice When You Make Any Purchase at Walgreens by Sunday, 9/15/13. You'll be able to choose a gift card to places like Amazon.com, Target, Walmart, Kohl's, Starbucks and more…!
So pick up a pack of Orbit gum (just 39¢ this week with in ad coupon) and turn it into a $10 Gift Card FREEBIE. Or buy the Planters that's free after Register Rewards and make a $10 profit – that's what I did.
 Plink Member must link a credit or debit card and make a purchase at Walgreens by Sunday, 9/15/13, to qualify. Just go HERE to check it out.
Then continue to earn plink points when you shop at other partners like K-mart, Dollar General, Dunking Donuts, Burger King, Gap, Regal Theaters and many more! Start earning in 3 easy steps:
Sign up with Plink HERE (it's free!) and register any card
Make Any Purchase at Walgreens
Get a $10 Gift Card and get rewards when you shop and dine out at your favorite places!
Plus Plink uses the same technology as banks to make sure all your information is totally safe.  They use intuit (just like paypal does) to store your information so NO one at plink can see your banking information.
Details: This is a private offer for new members only. Walgreens purchase must be made by 9/15 to qualify. Gift cards will be awarded within 7 business days of when the transaction is posted. Limit of one $10 bonus per new member account. Since this is a private offer, Walgreens will not appear as an offer in the Plink Wallet.